61) Do you wear jeans or sweatpants more?
Hmmmmmm…..
I wanna say jeans but then I wanna say sweatpants too! Soooo….what does that leaves you with?
….oh well, I guess its sweat-jeans then… 😀  
62) Where in the world would you like to travel?
More like da whole world! Even to….take it away Buzz…..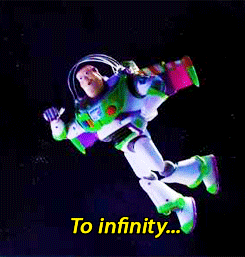 63) Are you traveling anywhere soon?
Yes! Hopefully to my fridge and South…..
….. WOOOO!!!! 
64) Have you ever built an igloo?
Well, I don't live in Alaska do I? I mean I could try constructing one here on de island but that'll cause too much $$ to purchase de ice of course….and I'll just produce a floor pool instead…. 
65) Best thing at Starbucks?
 Having your name on the cup… 
I mean how super popular is that! Oh, sorry wrong order…you've got the inaccurate girl…
….well that was nice while it lasted…. 
66) Do you like watching scary movies?
If I was still unsaved I would have said YES! But I'm not bout that life again sooooo….its NO!!! 😀 
67) What's the best thing about school?
HAVING TO NOT WORK AND DEPENDING ON MY PARENTS!!!!!! HEHEHE!!! (That's when I attended school tho…sadly em good old days are over lol) 
ADULTHOODDDDDD!!! 
68) What were you doing at midnight last night?
Writing ❤ 
69) What's under your bed?
I don't think you should know that but you wanna know anyway sooo…There's a lot of stuff below my bed like you know, de usual stuff like cobwebs, spiders, spiders and their babies, dust, woodlice, bugs, empty boxes, shoes, bags, my sister's keyboard, my piano, my old box game called COMPATIBILITY, my sister's cosmetologist equipment's….hmm and one more thing…Oh! haha…of course, the bed-feet and its frames. 
 70) How do you really feel about what you're doing right now?
REALLY FABULOUS! WOOT! WOOT! 
 YAS! LOL! ❤