Hi all!
Welcome to de first episode of de 🌴🌺"Artist Accent"🌴🌺series where I will be teaching you how to talk like a TRINI! 💯 Yuh like that eh? LOL! 😀
So, I'm gonna start off  with 10 basic words and expressions. I'll be including the pronunciations and meanings also!
Allyuh ready? (You all ready?) Let's goooooooooo!!!! 😀
You better be Heidi, you better be! LOL! 😉 
Ah (you guys should know how to say that haha…no but seriously though
lol!) any who's that's how we say I/I'm/a.  
Egs. 1. Ah don't know! – I don't know!
2. Ah coming!- I'm coming!
        3. Look ah butterfly! – Look a butterfly!
Meh- ( m-eh) Me.
Take meh! -Take me! (don't take me ok haha!) 
Yuh- (y-uh) You.
Yuh hear that?- You hear that? 
Da (d- ah) – That. 
Da girl.- That girl. 
De (dee) – The.
Bring de box.- Bring the box. 
Geh- (gear) Get/Give. 
Geh up!- Get up!  
Geh meh da! – Give me that! 
Nah (n-ah) – No. 
Nah, ah good.- No, I'm good. 
Yeh- (year) Yes.
Yeh girl ah know da.- Yes girl I know that. 
Inno- (in-oh) You know.
Yeh for real inno. – Yes for real you know. 
Allyuh (all-y-uh) You all. 
Ah have something to show allyuh. -I have something to show you all. 
Welp, that brings us to de end of episode 1!! Hope you guys took your notes and be trying to speak like a true Trini! Stick around because the upcoming episodes maybe brought to you live!!!! Whoops….did I say LIVE AS IN ALIVE? Yes, I'm alive but…….hahaha! Stay tuned folks! 😉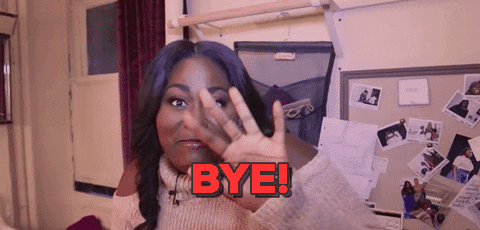 More like buh-bye or ba-bye in Trini lol!!! 😀